Senior Associate, Communications
Apply Now
Job ID: MAR0001IT
Date posted: 02/11/2019
Location: 0501 - HQ MN Minneapolis Downtown, Minneapolis, Minnesota
Description:
Senior Associate, Communications

Classification: Exempt

Date: February 2019

About us:

Target is an iconic brand, a Fortune 50 company and one of America's leading retailers.

A role with Target Communications means a chance to continuously improve the quality, relevance, creativity and authenticity of both internal and external storytelling. Bring your skills as a bold and forward-thinking professional communicator who thrives on building confidence, driving brand love and creating value. Here, you'll shine as a relationship-focused pro who's strategically minded, an expert executor and an articulate brand ambassador. Rise to the challenge of driving results with smart risk-taking, constant innovation and perpetual teaching and learning. Comprised of Public Relations, Public Affairs, Crisis Management and Internal Enterprise Communications, this team strengthens and protects Target's reputation and helps drive traffic, sales and guest loyalty. You'll develop deep relationships with business partners to ensure critical information flows through multiple channels, building confidence with team members and external stakeholders and strengthening Target's position within the competitive retail marketplace.

As a Senior Associate, Communications, you will serve as story-crafter, investigative reporter and communications strategist, all with the goal of sharing Target's story and strengthening team member engagement – internally and, from time-to-time, externally. As Senior Associate, Communications, you'll sit with our Editorial & Channel Management team, comprised of talented writers and content producers, and partner with external and internal teams to deliver daily news to 28K+ team members and beyond. 

Job responsibilities:

• Digital content publishing + channel management – you'll produce content for Target's award-winning daily internal communications channel, TGT Briefly, and lead Target's monthly senior leader-facing, news-to-use communication, the Source. You'll work closely with your peers across the Communications team, as well as key business partners across the company, to plan and align content. You'll also contribute stories to Target's best-in-class corporate website, A Bullseye View.
• Top-notch writing + editing – you're on the front line of the daily creation of stories that share company news and strategy and ultimately support transparency for Target team members. Identifying and developing creative, clear, concise stories and the ability to write and edit complex topics into sharp, short, engaging pieces should be at the top of your "I'm Excellent At" list.
• Story mining + reporting – you'll generate story ideas by looking at the external landscape, as well as working with internal partners to identify and react quickly to stories that need to be told. The goal is to help our audience understand what's happening at Target to accelerate growth – and keeping our story-craft in critical cross-functional company initiatives like Holiday, Supply Chain and Shopping Experience on the leading edge.
• Operational support – you'll rotate digital publishing responsibilities with your colleagues, use your project management and organizational skills while contributing to an integrated editorial calendar, help respond to daily feedback, and contribute to measurement and results reporting as we continually evaluate the effectiveness of our communication strategies.
• Collaboration – because you work across so many disparate partners to accomplish daily tasks, a knack for understanding and distilling complex topics and the ability to collaborate successfully is absolutely critical.
• Innovation – you'll bring an innovative approach to your stories and prioritize continuous improvements to keep your beats fresh, engaging and cutting-edge, all while keeping its core consistently excellent. And you'll work with the team to develop new ways to engage team members through stories of Target's purpose, strategy and story. 

Skills required:

• 4-year college degree required, with emphasis in communications-related area; journalism a plus
• 5+ years of related work experience; journalism a plus
• Top-notch communications, writing, investigative reporting and editing skills
• Ability to develop and execute multiple editorial projects at once and against very tight deadlines
• Strong editorial judgement with ability to focus on both broad, strategic vision and small, critical details
• Understanding of how to communicate information clearly and creatively, and ability to thrive in a fast-paced, dynamic environment
• Prior experience managing web-based content management systems
• Proven skills in relationship development, project management, and issue resolution
• Familiarity with multimedia storytelling, internal communications platforms, measurement and analytics a plus.


Apply Now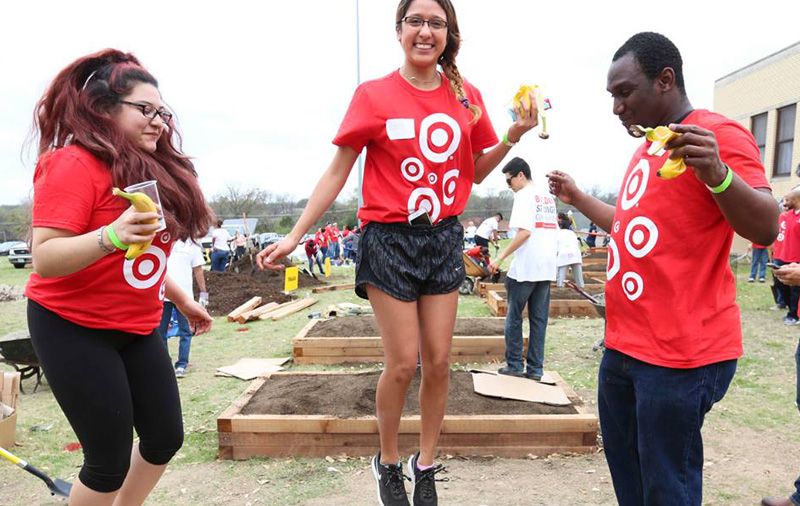 culture
What's it like to work here? We're asked that a lot. Target respects and values the individuality of all team members and guests—and we have lots of fun in all that we do.
experience our culture