Senior CGI Artist
Apply Now
Job ID: MAR0001JL
Date posted: 02/25/2019
Location: 0501 - HQ MN Minneapolis Downtown, Minneapolis, Minnesota
Description:
SR CGI ARTIST
PRIMARY FUNCTION
Be a driving force in Target Creative by working alongside experienced art directors, designers, stylists and engineers.  Our creative and dynamic team works together through all phases of design on a myriad marketing, property development, and product design assignments.  Each project provides a new opportunity to solve a problem, tell a story, and illustrate a solution. We are looking for applicants with relevant industry qualifications and software experience who are ready to bring their ideas to the table to create the best guest experience.
We are looking for an applicant with a keen artistic eye, who is excited to challenge existing visualization standards, experiment with design theory, and composition, to make renderings that elevate the Target Brand experience.
PRINCIPAL DUTIES AND RESPONSIBILITIES
Develop creative solutions, under tight deadlines that balance both the needs of the business and creative/brand standards necessary to achieve the best guest experience
An excellent eye for composition, lighting, quality and photo-realism
Development of photo realistic imagery for highly stylized indoor/outdoor lifestyle images that will be published across Marketing channels (i.e. web, apps, VR/AR, facebook, pinterest, print, etc.)
Experience in lighting and scene assembly
Ability to manipulate lighting and rendering set ups in 3d to get photo realistic renders
Undertake finishing and retouching operations on 3D renderings
An understanding of photographic lighting principles and techniques
Possess a deep understanding of 3D modeling, shaders, and model optimization for real-time performance to help guide execution strategies on a global team
Ability to set up fly thru animations and composite final frames
Ability to receive, filter and efficiently act upon artistic and technical critique
Strong time management skills
Aptitude to work on tight project deadlines in both a team and individual environment
Maintain deep expertise in technology and the market conditions to create solutions to complex problems
Consistently demonstrate passion for the brand and the team's contribution to the overall success to the organization
Team Leadership
Responsible for solving and implementing process and technology solutions across CGI, Target Studio and Target Creative
Effective communication with Project Managers, art directors, stylists, developers and fellow artists
Develop, leverage and maintain strategic partnerships and efficient global working relationships with internal and external partners to aid the progression of the work and enhance the guest experience.
Be open to change management as new business' onboard to CGI.
Partner with Lead CGI Artist to identify stretch assignments
REPORTING/WORKING RELATIONSHIPS
Reports to Director
Partner with Art Directors, Stylists, Project Managers and 3D Capture team
Partner with external resources, agencies, vendors and contractors as needed
JOB REQUIREMENTS
Minimum of 6-8 years of industry experience or related field experience
Demonstrated ability to lead and oversee project work of others and to provide meaningful feedback
Experienced and proficient in the use of 3D modeling software such as:

3ds Max, V-Ray, Corona, Substance Designer, Adobe Creative Suite (Illustrator, Photoshop, InDesign) and a working knowledge in Rhinoceros, Autodesk Revit Architecture, Maya, SketchUp, and Marvelous Designer.

Ability to manage and execute complex projects in many different stages and work with ambiguity
Refined communication and presentation skills
Apply Now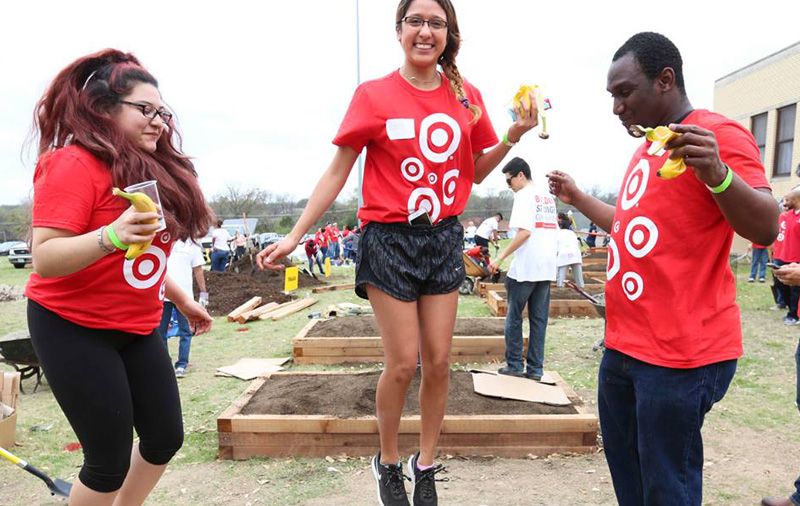 culture
What's it like to work here? We're asked that a lot. Target respects and values the individuality of all team members and guests—and we have lots of fun in all that we do.
experience our culture