Senior Manager, FP&A Transformation
Apply Now
Location: 1000 Nicollet Mall, Minneapolis, Minnesota, United States, 55403-2542;
job id: R0000151842
job family: Financial Planning & Analysis
schedule: Full time
Target is an iconic brand, a Fortune 50 company and one of America's leading retailers.
Right on pace with Target's distinctive retail brand, Target Finance and Accounting are transforming for the
better. As so much more than a financial analyst or a behind
-
the
-
scenes
number cruncher
, you will be a truly
collaborative partner with a seat at t
he table.
You will
bring your unique point of view, experience and passion
for the work to your team and internal clients. In Finance,
you will
be an integral voice in discussions that lead
to Target's unparalleled shopping experience. Your analysis and recomm
endations will be directly applied to
critical business decisions, from sales to merchandising and beyond. Within Accounting,
you will
enjoy the
interesting challenges of the competitive retail space, and
you will
have a 360
-
degree impact
—
rather than on
just o
ne part of the business.
You will
see your contributions come to life in virtually every area of this dynamic
enterprise.
In addition,
you will
grow and be challenged in your career while having a healthy balance with life
outside of work.
A role in
the broader
Financial Planning
& Analysis
(FP
&
A
)
means belonging to a great team of genuine,
diverse, courageous and versatile people who put integrity and ethics at the heart of everything they do.
Together,
you will
drive outstanding financial results by enabling and accelerating Target's str
ategic execution.
You will
nurture influential partnerships with leaders who value your credibility, thanks to the quality and
reliability of your insights. To teams across Target,
you will
bring your skills for analytical rigor, creative
problem
-
solving and s
ound decision
-
making.
You will
be an active contributor to cross
-
functional teams.
You
will
rise to the challenge of the dynamic retail industry, brin
g
ing innovative solutions that have a direct impact
on financial and operational direction
-
setting, merchandis
ing and capital investments and how to best use our
resources. All of your good work will help elevate and maintain Target as one of the world's most recognized
and best
-
loved retail brands.
A
role within
the
FP&A Transformation
team
means helping to connect processes, from strategy to guest, to
drive continuous improvements that are sustainable
.
You will be a part of a
team within Target that has
visibility into where we have opportunities to improve how we execute, plan, and prioritize work and continue to
elevate the way we meet t
he needs of the Guest across FP&A, Finance, and the
Enterprise.
You will
use your
i
nfluencing skills to help operationalize and activate
how the organization works together connecting roles and
responsibilities and how work is successfully accomplished.
As a
Senior Manager
,
FP&A Transformation
,
you will work alongside
business leaders
to
assess the needs
of
FP&A and
the business
,
understand the current situation, identify drivers for improvement, analyze root
causes of performance gaps, and redesign end
-
to
-
end processes
.
You will support an environment that
reinforces continuous improvement of
business processes, increases consistency, reduces guest pain points
and empowers other team members to enhance the value of the service they provide to guests.
Lead the

concurrent

delivery of several

key work

-

streams

within the overall FP&A

Transformation

program.

Recommend and implement

business

process

and

system improvements

Support

developing, designing, and implementing

Finance leading practice

s

.

Work directly with FP&A finance teams to support them in their adoption and application o

f new

financial processes and practices.

Drive commitment in the business transformation project as a whole.

Aid the organizatio

nal efforts to implement new engagement m

odel

s

with business partners.

Partner with the

F

inance

Capabilities

organization in continued

development of data analytics

capabilities and related tools that can be used to provide insights into company

performance

improve

forecasting and increase operating efficiency.
Four year deg

ree

5+ years of relevant work experience (i.e. retail, consulting, process improvement, project

management, etc.)

Outstanding written, oral, communication, networking, and presentation skills

Outstanding interpersonal skills characterized by effective interactions with a diverse range of internal

and external constituents, stakeholders, and audiences

Ability to liste

n to varying input

s and perspectives, synthesize, and create

an output

,

action plan

, and/or

communications plan

Ability to establish and maintain trusted cross

-

functional working relationships across the enterprise

Outstanding leadership, conflict manageme

nt and ability to

champion change management

Ability to operate in an ambiguous and rapidly changing work environment

Ability to challenge the status quo

Outstanding critical thinking and problem solving skills

Ability to use data and appropriate storytelling to influence senior leaders and

support

your perspective

evelopment, deployment, execution, and ownership of best practices for process management

Ability to work independently with limited direction
Americans with Disabilities Act (ADA)
Target will provide reasonable accommodations (such as a qualified sign language interpreter or other personal assistance) with the application process upon your request as required to comply with applicable laws. If you have a disability and require assistance in this application process, please visit your nearest Target store or Distribution Center or reach out to Guest Services at 1-800-440-0680 for additional information.
Apply Now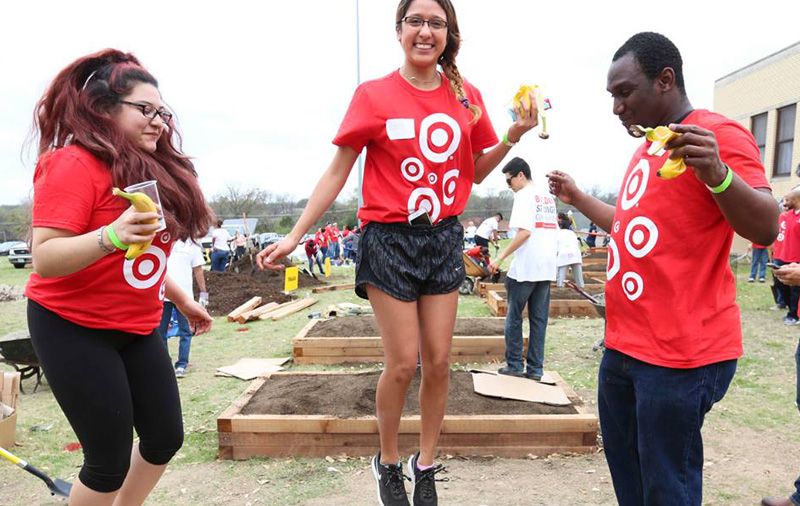 culture
What's it like to work here? We're asked that a lot. Target respects and values the individuality of all team members and guests—and we have lots of fun in all that we do.
experience our culture