Senior Product Development Scientist/ Engineer
Apply Now
Job ID: FOO00006G
Date posted: 01/22/2019
Location: 0501 - HQ MN Minneapolis Downtown, Minneapolis, Minnesota
Description:
SENIOR FOOD PRODUCT DEVELOPMENT SCIENTIST/ ENGINEER
About us:
Target is an iconic brand, a Fortune 50 company and one of America's leading retailers.
At the heart of one of the world's best-loved and most recognizable brands is an impeccable Product Development & Design organization. We thrive on the magic of discovering that just-right thing, and we infuse everything we do with our passion for delighting our guests.  We concept, develop, make and deliver the great tasting new favorites that Target guests expect and deserve. We are uber-savvy trend and quality experts who stay ahead of the curve, proactively identifying our market's needs and exceeding them, every time. Join one of our dynamic and inventive teams to influence the taste, quality and value that decisively position Target above the competition. Your input will have a direct and positive effect, whether on convenient meals, snacking favorites, giftables, or pantry staples. Here, you will be close to the action of dreaming up and bringing to life the Target-owned brands that surprise and gratify guests, wherever and whenever they love to shop.

A role with Food Product Development means being on a team of engineers and food scientists who create products that truly embody the intent of Target-owned brands. Can you ensure that each product has that just-right mix of taste, quality and value? Do you love to create technical product solutions that help meet strategic business goals? Then you will have success on our talented and innovative team.

As a Senior Food Product Development Scientist/ Engineer, you will collaborate within a cross functional team comprised of business, technical, regulatory, and marketing partners to identify growth opportunities and build winning solutions for our guests.  You will lead the development of best practices in quality by design, specification development, and commercialization to ensure in market products delight our guests and deliver on our Brand promise.  As part of a cross functional team, you will drive quality improvement opportunities and influence development of vendor quality management and compliance programs  You will develop specifications and standards, and support the commercialization of programs in an agile and consumer centered speed to market process for a diverse assortment of Target brand products.  Here, you will leverage collective expertise to suggest improvements to cost of goods, product design and manufacturing, sustainability and ROI.  As a quality champion, you will collaborate with our quality and compliance teams to monitor in market quality and collaborate with vendors to ensure that the brand vision is clearly understood and successfully brought to life with every product we offer.

We will support you along the way with robust onboarding, as well as personal and career development, to help you grow as a strong Food Product Development Scientist/ Engineer. The exciting part of retail? It is always changing!  Core responsibilities of this job are described within this job description.  Job duties may change at any time due to business needs
About you:
Four year degree in Food Science, Food Process Engineering, Chemical Engineering or related discipline
Advanced degree preferred but not required
8+ years' of product development and commercialization experience - translating bench top design to scalable, manufacturable products
Demonstrated expertise in ingredient behaviors and interactions in multiple food systems and processes
Experience working with contract manufacturing  and vendors to ensure quality and consistency of products as designed
Knowledge of quality management and specification development practices
Excellent communication, collaboration, problem solving, and strategic thinking skills
Ability to successfully work in a team environment
Willing to travel up to 30% time
Apply Now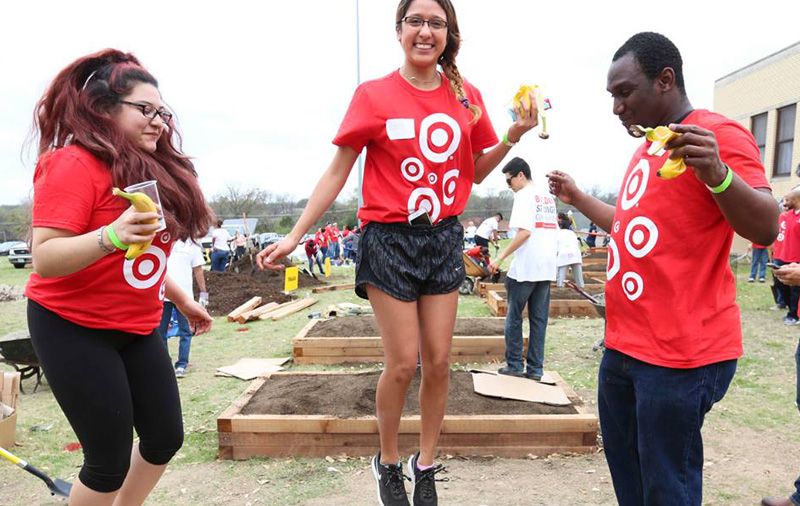 culture
What's it like to work here? We're asked that a lot. Target respects and values the individuality of all team members and guests—and we have lots of fun in all that we do.
experience our culture