Sr. BI Engineer
Apply Now
Job ID: BUS0001M7
Date posted: 12/06/2018
Location: 0501 - HQ MN Minneapolis Downtown, Minneapolis, Minnesota
Description:
JOIN OUR ENTERPRISE DATA, ANALYTICS & BI TEAM AS SENIOR BI ENGINEER
Similar titles: Big Data Engineer, Data Engineer, Software Developer, Software Engineer, BI Developer, Business Intelligence Engineer
About This Opportunity
Join Target's Data, BI Engineering team where your goal is to make the shopping experience as simple, secure and enjoyable as possible. You'll develop strategies that drive sales and innovation while creating a fast, fun experience that inspires guest loyalty.
Use your skills, experience and talents to be a part of groundbreaking thinking and visionary goals. As a Senior BI Engineer you'll take the lead as you…
•Ability to analyze business direction and problem, understand long term vision and develop strategy, guide with technical solutions.
•Hands on - deliver projects, programs with high quality and on time that create significant impact to our business.
•Analyze diverse business problems and design high quality & innovative solutions using Big data, Hadoop for product lines working in partnership with Product Manager
•Effectively lead technology discussions with business partners and other external parties.
•Actively participate in product release cycle, daily stand up, design and code review.
•Mentor and provide proactive technical oversight, advice development teams fostering re-use, design for scale, stability, and operational efficiency of data/analytical solutions.
•Build and maintain effective relationships with product managers, and development team for individual products.
•Evaluate and recommend technology and frameworks for building cross product data assets to optimize for flexibility, long-term viability, and time to market.
•Keep current with technology and contribute towards IT blueprint, frameworks and technologies that would benefit us and improve our productivity.
Requirements
•2+ years Hadoop platform experience with overall 5+ years' experience in software development
•Map reduce, PIG, SQOOP, HIVE, SPARK, HADOOP Connectors, Linux, Knowledge of KAFKA, Building API, Cassandra and Hbase 
•Experience with Java and/or Python
•Experience working with DevOps development model
•Demonstrated experience with design, development and implementation of large scale data systems using Hadoop (Cloudera or HortonWorks)
•Experience with design of data integration using ETL, ELT and other data Integration patterns
•Development experience with Teradata, Oracle SQL, PL/SQL, PostgreSQL or any other query language
Apply Now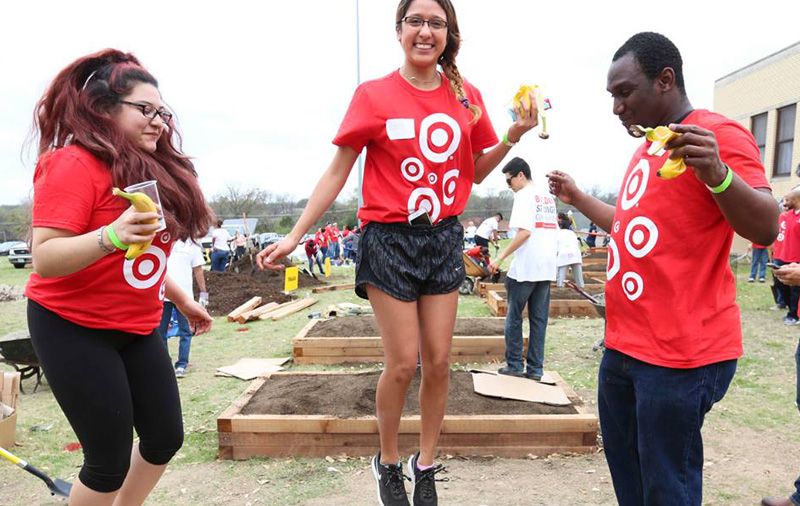 culture
What's it like to work here? We're asked that a lot. Target respects and values the individuality of all team members and guests—and we have lots of fun in all that we do.
experience our culture