Sr BI Engineer
Apply Now
Job ID: BUS0001N1
Date posted: 01/21/2019
Location: 0501 - HQ MN Minneapolis Downtown, Minneapolis, Minnesota
Description:
Senior BI Engineer
JOIN OUR ENTERPRISE DATA, ANALYTICS & BI TEAM AS Senior BI ENGINEER
Similar titles: Big Data Engineer, Data Engineer, Software Developer, Software Engineer, BI Developer, Business Intelligence Engineer
About This Opportunity
Join Target's Data, BI & Analytics team where your goal is to make the shopping experience as simple, secure and enjoyable as possible. You'll develop strategies that drive sales and innovation while creating a fast, fun experience that inspires guest loyalty.
Use your skills, experience and talents to be a part of groundbreaking thinking and visionary goals. As a Senior BI Engineer you'll take the lead as you…
• Deliver technical products hands on, with high quality and on time that create significant impact to our business.
• Analyze diverse business problems and design high quality & innovative solutions using Hadoop and other big data technologies for data products working in partnership with Product Manager
• Effectively lead technology discussions with business partners and other external parties.
• Design for lean operations. Technical teams support the solutions they create.
• Actively participate in product release cycle, daily stand up, design and code review.
• Mentor and provide proactive technical oversight, advice development teams fostering re-use, design for scale, stability, and operational efficiency of data/analytical solutions.
• Build and maintain effective relationships with product managers, and development team for individual products.
• Evaluate and recommend technology and frameworks for building cross product data assets to optimize for flexibility, long-term viability, and time to market.  Execute proof-of-concept activities to best understand what options solve the business problems and fit with other Target technical assets.
• Keep current with technology and contribute towards IT blueprint, frameworks and technologies that would benefit us and improve our productivity.
Requirements
• 2+ years Hadoop platform experience with overall 5+ years' experience in software development
• Map reduce, PIG, SQOOP, HIVE, HBase, SPARK, HADOOP Connectors, Linux , Knowledge of KAFKA , Building API
• Experience working with DevOps development model
• Demonstrated experience with design, development and implementation of large scale data systems using Hadoop (Cloudera or HortonWorks)
• Experience with design of data integration using ETL, ELT and other data Integration patterns
• RDBMS Development experience with Teradata, Oracle SQL and PL/SQL, DB2, or PostgreSQL
• Experience with Java, Scala, Python, Unix scripting
Apply Now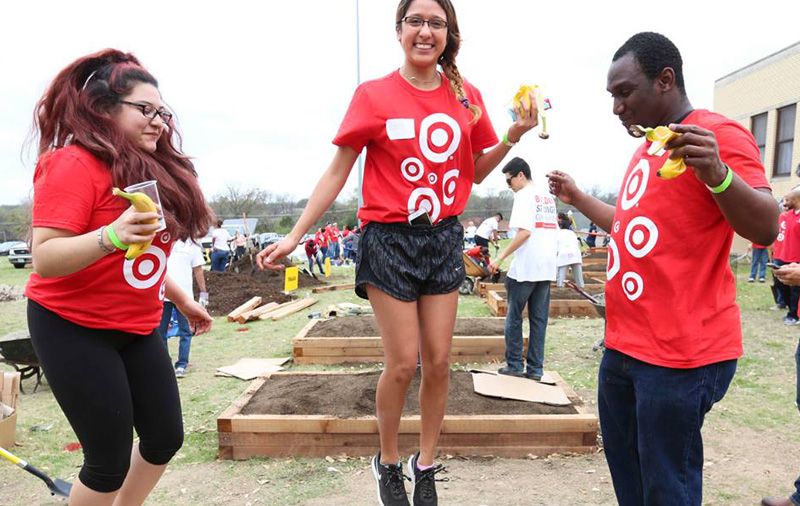 culture
What's it like to work here? We're asked that a lot. Target respects and values the individuality of all team members and guests—and we have lots of fun in all that we do.
experience our culture