Supply Chain - Scrum Master and Agile Project Manager
Apply Now
Job ID: R0000063479
schedule: Full time
Location: 33 South 6th Street, Minneapolis, Minnesota, United States, 55402-3601;
Description:
Requirements:
Four-year degree or equivalent experience
2+ years of relevant experience; 1+ years of those as a Project Manager or Scrum Master (or equivalent experience) working in an agile environment assisting product or program initiatives demonstrating effective coordination of several product teams
Ability to understand business and technology needs and execute on a business strategy
Basic understanding of scaled agile practices/principles and ability to apply to teams (both business and technical) you are partnering with
Strong communicator; able to build strong relationships with your team, external stakeholders, and leadership
Ability to adjust to changing landscape, systems, and processes and willingness to drive the change when necessary to achieve better outcomes
Team player who brings people together to achieve common goals
Desire to learn and enable others to do the same
Willing to take risks, challenge the status quo, and work under ambiguous circumstances
Desire to grow and enhance your scaled agile skills
Smart Sheet, Confluence, and Jira experience a plus
Supply Chain and Logistics 
Target Global Supply Chain and Logistics is evolving at an incredible pace. We are constantly re-imagining how we get the right product to the guest even better, faster and more cost effectively than before. We are becoming more intelligent, automated and algorithmic in our decision-making, so that no matter how guests shop—in stores or on Target.com—we deliver the convenience and immediate gratification they demand and deserve. We are on a mission to win decisively over any competitor, with a seamless and superior guest service experience unlike any they can offer. Our teams work with the agility our mission requires, and we constantly come together to implement new processes in record time. So we're looking for exceptional people who are proactive, creative, independent, innovative, risk-savvy and comfortable working in varying degrees of ambiguity. Are you a critical thinker who seeks the root cause and can analyze both qualitatively and quantitatively? Are you a creative problem-solver who simplifies problems, quickly identifies solutions, commits to a plan and then positively influences others to execute it? If so, you will have success on one of our dynamic teams.
HQ Engineering and Activation
A role in HQ Engineering and Activation means being at the heart of our perpetual re-imagining. This group is the think tank and laboratory for the innovative ideas that spark change throughout the Supply Chain. We are inventors, metrics masters, data geeks, testers, triers, course-correctors and askers of the all-important question "What if … ?". This team influences processes, engineers the robotics and automation to support those processes, activates solutions sustainably across the network and manages those assets. Your specific expertise—whether it's people, process, technology, or data—will be felt well beyond the boundaries of the Supply Chain organization, positively impacting Target team members and guests alike. As a Scrum Master, you are accountable for working with product teams and business partners to deliver capabilities that meet overall business strategy and objectives using agile methodologies. The key to success of this position is partnering with Product Managers and business partners to iteratively sequence the work required to satisfy the definition of done for each initiative. Leveraging agile processes to assist teams with aligning and removing blockers to complete cross functional initiatives.
Job Description:
Use your skills, experience and talents to be a part of groundbreaking thinking and visionary goals. As a Scrum Master, you'll take the lead as you specialize to serve and enable a functional area(s) product teams in order to deliver on their respective OKRs (Objectives & Key Results). You'll provide support to the teams in a way that exemplifies agile methodologies. Guide and coach the team and organization on how to use agile planning practices and on how to get the most out of self-organization and how to fill in gaps as they occur. Provide visibility into progress by maintaining sequence maps and providing insights into delivery challenges. You will help the teams to remove impediments through understanding of the product and team ecosystem, as well as connectivity to key stakeholders. You will build a trusting and safe environment where problems can be raised without fear, with an emphasis of problem solving and continuous learning and improvement. You will facilitate getting the work done without coercion, assigning, or dictating the work. You'll use your skills to initiate discussion, facilitate decision making and conflict resolution in order to drive continuous improvement. Assist with internal and external communication, improving transparency, and sharing out information. Lastly, you'll support and guide teams with the creation of a cross functional sequence map via agile practices (e.g. story mapping).
Core responsibilities of this job are described within this job description. Job duties may change at any time due to business needs. 
Americans with Disabilities Act (ADA)
Target will provide reasonable accommodations (such as a qualified sign language interpreter or other personal assistance) with the application process upon your request as required to comply with applicable laws. If you have a disability and require assistance in this application process, please visit your nearest Target store or Distribution Center or reach out to Guest Services at 1-800-440-0680 for additional information.
Apply Now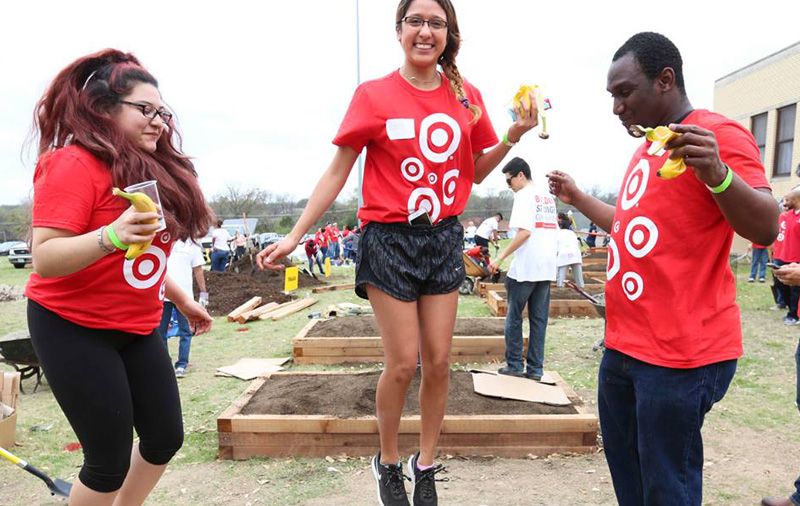 culture
What's it like to work here? We're asked that a lot. Target respects and values the individuality of all team members and guests—and we have lots of fun in all that we do.
experience our culture