Executive Team Leader GM & Food Sales (Assistant Manager Operations & Grocery)- Pittsburgh, PA
Apply Now
Job ID: R0000090409
job family: Store Management
schedule: Full time
Location: 105 Blazier Dr, Pittsburgh, Pennsylvania, United States, 15237-6039;
Description:
Executive Team Leader General Merchandise & Food Sales Job Description
ALL ABOUT TARGET
As part of our collaborative and guest-obsessed team, you help us create an experience that makes guests say, "I love Target!" When you work at Target, you're helping every family discover the joy in everyday life. You're working alongside a dedicated team that brings their passion and pride to all that they do. Delight our guests with area experts ready to assist with items that are instock and priced accurately ensuring guests have an enjoyable experience both in stores and online.
ALL ABOUT GENERAL MERCHANDISE
Experts of operations, process and efficiency who enable a consistent experience for our guests by ensuring product is set, in-stock, accurately priced and signed on the sales floor. The General Merchandise and Food Sales team leads inbound, outbound, replenishment, inventory accuracy, presentation, pricing, and promotional signing processes for all GM areas of the store. This team leads Food & Beverage, and Food Service, providing a fresh and food safe experience. Experts enable efficient delivery to our guests by owning pick, pack, and ship fulfillment work. At Target we believe in our team members having meaningful experiences that help them build and develop skills for a career.
The role of a General Merchandise & Food Sales Executive Team Leader can provide you with the:
· Knowledge of guest service fundamentals and experience building and managing a guest first culture on your team
· Knowledge of retail business fundamentals: department sales trends, inventory management, freshness and quality, guest shopping patterns, pricing and promotions strategies
· Experience in setting and planning department(s) monthly/quarterly workload to support business priorities and managing a team to deliver on sales goals
· Knowledge of the competition; leveraging insights to drive business objectives
· Experience managing a team of hourly team members and leaders; and creating business specific strategies and goals
· Skills in recruiting, selecting, and talent management of hourly team members and leaders As an General Merchandise & Food Sales Executive Team Leader, no two days are ever the same, but a typical day will most likely include the following responsibilities:
· Drive total store sales, understand your role in sales growth, and how your departments and team contribute to and impact total store profitability.
· Develop a strategy and utilize your workload planning tools to manage all scheduled workload ensuring you are guest ready at all times.
· Lead your Team Leaders to effectively plan workload including store transitions, planogram, price change, stocking and backstocking.
· Create a scheduling plan in partnership with your Team Leaders based off of monthly and weekly business workload and guest traffic.
· Enable efficient delivery to our guests by leading pick, pack and ship fulfillment work (if applicable).
· Create a guest-obsessed culture that prioritizes the guest experience and delivers on store sales goals.
· Manage a team that are experts in operations, accuracy and efficiency.
· Know and assess the competition; leverage guest insights and feedback to drive the business and be the destination of choice for our guests.
· Work a schedule that aligns to guest and business needs (this includes early morning, evening, overnight shifts and weekends).
· Manage a consistent experience for our guests by ensuring product is in stock, fresh, available, food safe, and accurately priced and signed on the sales floor with minimal disruption to the guest.
· Manage food, food services (if applicable), inbound, outbound, replenishment, inventory accuracy, presentation, pricing and promotional signing processes for select GM areas of the store.
· Assess all General Merch & Food backroom and sales floor areas, walk Food & Beverage Standards to assess priorities in food and review GM/Food reporting to identify gaps and develop a plan to resolve.
· Validate Food & Beverage Team Leader's execution of business plan and assignment sheet process. Follow-up on their management of DSD vendor performance.
· Manage your team in food and beverage to uphold and maintain all Starbucks and Pizza Hut Brand Standards (if applicable).
· Foster a productive relationship with your Starbucks DM and follow up on key takeaways from their time in your store (if applicable).
· Plan, lead and follow-up on organizational and operational change.
· Anticipate and identify changes in unique store trends.
· Develop and coach your team to elevate the skills and expertise of the team.
· Establish a culture of accountability through clear expectations and performance management.
· Anticipate staffing needs, talent plan and recruit – both long and short term.
· Become a subject matter expert in federal, state and local adult beverage laws as they apply to your business and protect your store's liquor license (if applicable).
· Provide service and a shopping experience that meets the needs of the guest.
· Always demonstrate a culture of ethical conduct, safety, and compliance. Lead team to work in the same way and hold others accountable to this commitment.
 · As a key carrier, follow all safe and secure training and processes.
· Address store needs (emergency, regulatory visits, etc.).
· All other duties based on business needs.
WHAT WE ARE LOOKING FOR
We might be a great match if:
· Working in a fun and energetic environment makes you excited…. We work efficiently and as a team to deliver for our guests
· Providing service to our guests that makes them say I LOVE TARGET! Excites you…. That's why we love working at Target
· Leading teams who are stocking, setting and selling Target products sounds like your thing… That's the core of what we do.
· You aren't looking for Monday thru Friday job where you are at a computer all day… We are busy all day (especially on the weekends), making it easy for the guest to feel welcomed, inspired and rewarded The good news is that we have some amazing training that will help teach you everything you need to know to be an General Merchandise & Food Sales Executive Team Leader.
But there are a few skills you should have from the get-go:
· 4 year degree or equivalent experience
· Strong interest and knowledge of the food & beverage business
· Strong interpersonal and communication skills
· Strong business acumen
· Comfortable dealing with ambiguity
· Manage conflict, lead and hold others accountable
· Relate well with and interact with all levels of the organization
·Strong cognitive skills, including problem analysis, decision making, financial and quantitative analysis
· Learn and adapt to current technology needs
· Manage workload and prioritize tasks independently
We are an awesome place to work and care about our teams, so we want to make sure we are clear on a few more basics that we expect:
· Access all areas of the building to respond to guest or team member issues
· Interpret instructions, reports and information
· Scan, handle and move merchandise efficiently and safely, including frequently lifting or moving merchandise up to 40 pounds
· Accurately handle cash register operations
· Climb up and down ladders
· Flexible work schedule (e.g., nights, weekends and holidays) and regular attendance necessary
Americans with Disabilities Act (ADA)
Target will provide reasonable accommodations (such as a qualified sign language interpreter or other personal assistance) with the application process upon your request as required to comply with applicable laws. If you have a disability and require assistance in this application process, please visit your nearest Target store or Distribution Center or reach out to Guest Services at 1-800-440-0680 for additional information.
Apply Now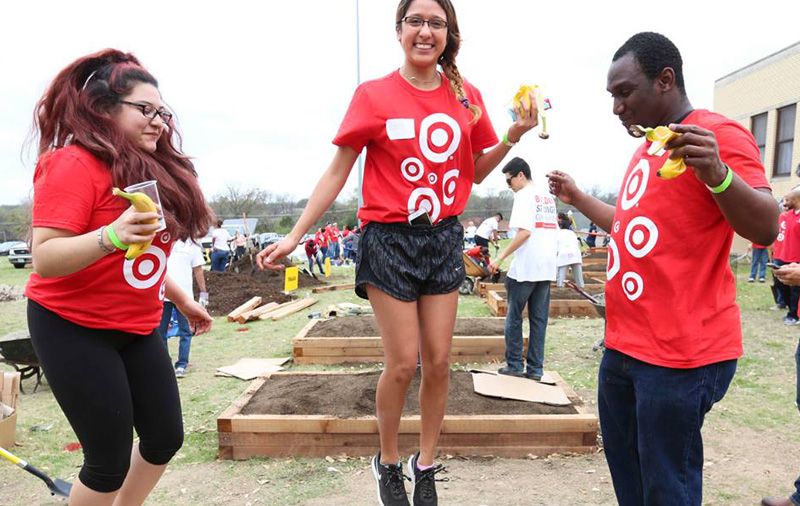 culture
What's it like to work here? We're asked that a lot. Target respects and values the individuality of all team members and guests—and we have lots of fun in all that we do.
experience our culture