Assets Protection Outreach Coordinator (Multi-Unit Outreach Coordinator)-San Francisco, CA
Apply Now
Job ID: R0000122188
job family: Security & Loss Prevention
schedule: Full time
Location: 560 CONTRA COSTA BLVD, PLEASANT HILL, California, United States, 94523-1216;
ALL ABOUT TARGET
As part of our collaborative and guest-obsessed team, you help us create an experience that makes
guests say, "I love Target!" When you work at Target, you're helping every family discover the joy in everyday
life. You're working alongside a dedicated team that brings their passion and pride to all that they do. You will
deliver a destination shopping experience by providing a safe and secure environment for our guests, and
mitigate shortage risks in order to drive sales.
ALL ABOUT ASSETS PROTECTION
Assets Protection (AP) team functions to keep our guests, team, and brand safe and secure and lead through
crisis events. They protect profitable sales by mitigating shortage risks, preventing, investigating and resolving
theft and fraud to ensure product is available for our guest.
At Target, we believe in our team members having meaningful experiences that help them build
and develop skills for a career. The role of an Assets Protection Outreach Coordinator can provide
you with the:
 Ability to lead and influence a security culture across a multiple stores, including incident and crisis
prevention and response tactics.
 Experience in building partnerships with community outreach (ex. homeless shelters, youth support,
mental illness and law enforcement) programs to support our guests.
 Specialized training to support and educate store teams on preventing and responding to incidents in the
store, including, but not limited to, disorderly conduct, guests under the influence of alcohol or drugs, or
guests with mental health conditions.
 Learnings to create an experience for all guests to feel safe and valued every time they visit our stores.
 Capability to support and hold teams accountable to security incident investigations, how to determine
root causes, and provide action plan coaching to prevent future incidents.
 Skills in creating security and outreach strategies, planning daily/weekly workload priorities to support
these strategies and deliver on goals.
As an Assets Protection Outreach Coordinator, no two days are ever the same, but a
typical day will most likely include the following responsibilities:
 Support total store sales and profitability by providing the safest place for our team members and guests
to work and shop.
 Act as a key security resource across multiple stores. Influence and educate AP teams and store leaders
at multiple stores on key security tactics including, but not limited to; physical security routines and
processes, solicitation, and incident and crisis prevention and response.
 Educating on AP's role in creating an environment where our guests feel welcomed, and tactics to deescalate
disruptive behaviors.
 Completing all required trainings, including specialized trainings to effectively respond to incidents, and
train AP and store leaders at multiple stores on response tactics. Attend all required continuing education
courses as needed.
 Building partnerships with local community outreach programs to provide stores with necessary
resources, including, but not limited to; homelessness, substance abuse, mental health, and youth
support programs. Effectively manage outreach budget.
 Building a connection with local law enforcement on when to engage and partner with law enforcement
officers when security incidents occur. Support off-duty programs as needed.
 Connecting with other community retailers to understand security trends in the community, benchmark
response and connection with the guests.
 Provide continuous training to AP teams and store leaders on topics relevant to each specific store.
 Support stores in building security incident investigations, by determining root causes and creating and
implementing action plans.
 Working a schedule with various shifts (including evenings and weekends) to connect with outreach
programs and conduct training for AP teams and store leaders.
 Building a partnership with APBPs, DSDs, HR, AP teams and store leaders in multiple stores.
 Establishing a culture of accountability through clear expectations, coaching & performance management.
 Communicating, influencing, and educating your peers and leaders about AP security priorities.
 Modeling the safety culture in store by recognizing safe behaviors and identifying and resolving safety
hazards and unsafe behaviors.
 Support the onboarding and development of AP leaders in stores you support.
 Demonstrating a culture of ethical conduct, safety, and compliance.
 All other duties as assigned based on business needs.
WHAT WE ARE LOOKING FOR
We might be a great match if:
 Working in a fun and energetic environment makes you excited.
 You are passionate about working efficiently and as a team to deliver for our guests.
 Providing service to our guests that makes them say I LOVE TARGET motivates you.
 You aren't looking for a Monday thru Friday job where you are at a computer all day. We are busy all day
(especially on the weekends), making it easy for our guests to feel welcomed, inspired, and full of joy.
The good news is that we have some amazing training that will help teach you everything you
need to know to be an Assets Protection Outreach Coordinator. However, there are a few
skills you should already have:
 4-year degree or equivalent experience
 Meet any state or local licensure and/or other legal requirements related to the position
 Strong interpersonal and communication skills
 Previous behavior health/social work experience
 Experience in community outreach preferred, but not required
 Comfortable dealing with ambiguity
 Ability to travel between stores and outreach facilities
 Manage through conflict, lead and hold others accountable
 Relate well with and interact with all levels of the organization
 Strong cognitive skills, including problem analysis and decision making
 Manage workload and prioritize tasks independently
 Highly effective communication skills and experience in verbal intervention and de-escalation.
 Helpful, compassionate, and empathetic attitude toward guests and other team members.
We are an awesome place to work and care about our teams, so we want to make sure
we are clear on a few more basics that we expect:
 Access all areas of the building to respond to guest or team member issues
 Interpret instructions, reports and information
 Scan, handle and move merchandise efficiently and safely, including frequently lifting or moving
merchandise up to 40 pounds
 Climb up and down ladders
 Flexible work schedule (e.g., nights, weekends and holidays) and regular attendance necessary
Americans with Disabilities Act (ADA)
Target will provide reasonable accommodations (such as a qualified sign language interpreter or other personal assistance) with the application process upon your request as required to comply with applicable laws. If you have a disability and require assistance in this application process, please visit your nearest Target store or Distribution Center or reach out to Guest Services at 1-800-440-0680 for additional information.

Target will consider for employment qualified applicants with criminal histories in a manner consistent with the San Francisco and Los Angeles Fair Chance Ordinances.
Apply Now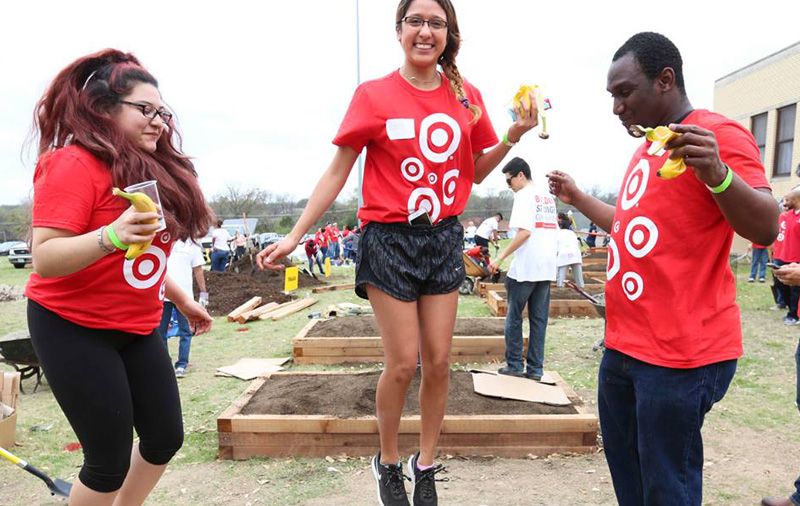 culture
What's it like to work here? We're asked that a lot. Target respects and values the individuality of all team members and guests—and we have lots of fun in all that we do.
experience our culture