Guest Advocate (Cashier), General Merchandise, Inbound (Stocking), Starbucks (T3413)
Apply Now
Location: 12675 NW Cornell Rd, Portland, Oregon, United States, 97229-5886;
job id: R0000314400
job family: Store Hourly - Food;Store Hourly - Sales Floor
schedule: Variable
Starting Hourly Rate / Salario por Hora Inicial: $16.50 USD per hour
ALL ABOUT TARGET
As a Fortune 50 company with more than 400,000 team members worldwide, Target is an iconic brand and one of America's leading retailers.
Working at Target means the opportunity to help all families discover the joy of everyday life. Caring for our communities is woven into who we are, and we invest in the places we collectively live, work and play. We prioritize relationships, fuel and develop talent by creating growth opportunities, and succeed as one Target team. At our core, our purpose is ingrained in who we are, what we value, and how we work. It's how we care, grow, and win together.
You delight our guests in all areas of the store ensuring each guest has an enjoyable experience in our smallest format stores.
ALL ABOUT SMALL FORMATS
We enable a consistent experience for our guests by ensuring product is in stock, available, accurately priced and signed on the sales floor in our smallest format stores. Experts of service, operations, process and efficiency, this team is responsible for being proficient in all areas of the store to complete duties such as, but not limited to, cashiering, stocking, presentation and price accuracy. You'll provide exceptional guest service, customizing each experience and anticipating guest needs.
At Target, we believe in our team members having meaningful experiences that help them build and develop skills for a career. The role of a Small Format Team Member can provide you with the:
Knowledge of guest service fundamentals and experience building a guest first culture across the store
Experience in retail business fundamentals including: department sales trends, pricing and promotion strategies, inventory management, and process efficiency & improvement
Experience supporting daily/weekly workload to support business priorities and deliver on sales goals
As a Small Format Team Member, no two days are ever the same, but a typical day will most likely include the following responsibilities:
Create a welcoming experience by authentically greeting all guests
Observe to quickly understand whether a guest needs assistance or wants to interact. Follow body language and verbal cues to tailor your approach.
Engage with guests in a genuine way, which includes asking questions to better understand their specific needs.
Be knowledgeable about the tools, products, and services available in the total store, and specific to your area, to solve issues for the guest and improve their experience.
Thank the guest in a genuine way and let them know we're happy they chose to shop at Target.
Help guests as you complete workload with minimal guest disruption
Work in all departments to ensure sales floor is full, zoned and in stock for guests
Push and stock product to sales floor
Execute adjacency changes, transitions, revisions and sales plans for all departments
Conduct weekly price change workload and ensure regular and promotional signing is set accurately for all departments
Complete scans and system audit functions to ensure inventory accuracy
Support execution of major transitions and ISM

Maintain interior and exterior brand, including emptying garbage cans and attending to restroom cleanliness, collecting carts, charging electronic carts, RVM maintenance (if applicable) and attending to spills throughout the store as needed.

Accurately execute all pulls (i.e., daily Fills, out of stock, manual and guest requests) and backstock product from all departments
Process all inbound deliveries (using the receive application) to ensure inventory accuracy
Complete all backroom daily and weekly audits
Operate power equipment only if certified
Maintain backroom organization and location accuracy and follow equipment guidelines
Follow processes accurately with attention to detail, monitor own progress and accurately prioritize tasks
Demonstrate a culture of ethical conduct, safety and compliance
Work in a safe manner at all times to benefit yourself and others; identify and correct hazards; comply with all safety policies and best practices.
Support guest services such as back-up cashier, order pick up (OPU) and Drive-up (DU) and maintain a compliance culture while executing those duties, such as compliance with federal, state, and local adult beverage laws
All other duties based on business needs
WHAT WE ARE LOOKING FOR
We might be a great match if:
Working in a fun and energetic environment makes you excited…. We work efficiently and as a team to deliver for our guests
Providing service to our guests that makes them say I LOVE TARGET! excites you…. That's why we love working at Target
Stocking, Setting and Selling Target products sounds like your thing… That's the core of what we do
You aren't looking for Monday thru Friday job where you are at a computer all day… We are busy all day (especially on the weekends), making it easy for the guest to feel welcomed, inspired and rewarded
The good news is that we have some amazing training that will help teach you everything you need to know to be a Small Format Team Member. But,there are a few skills you should have from the get-go:
Welcoming and helpful attitude toward guests and other team members
Learn and adapt to current technology needs
Work both independently and with a team
Resolve guest questions quickly on the spot
Attention to detail and follow a multi-step process
We are an awesome place to work and care about our teams, so we want to make sure we are clear on a few more basics that we expect:
Accurately handle cash register operations
Climb up and down ladders
Scan, handle and move merchandise efficiently and safely, including frequently lifting or moving merchandise up to 40 pounds
Flexible work schedule (e.g., nights, weekends and holidays) and regular attendance necessary.
Americans with Disabilities Act (ADA)
Target will provide reasonable accommodations with the application process upon your request as required to comply with applicable laws. If you have a disability and require assistance in this application process, please visit your nearest Target store or Supply Chain Facility or reach out to Guest Services at 1-800-440-0680 for additional information.
Apply Now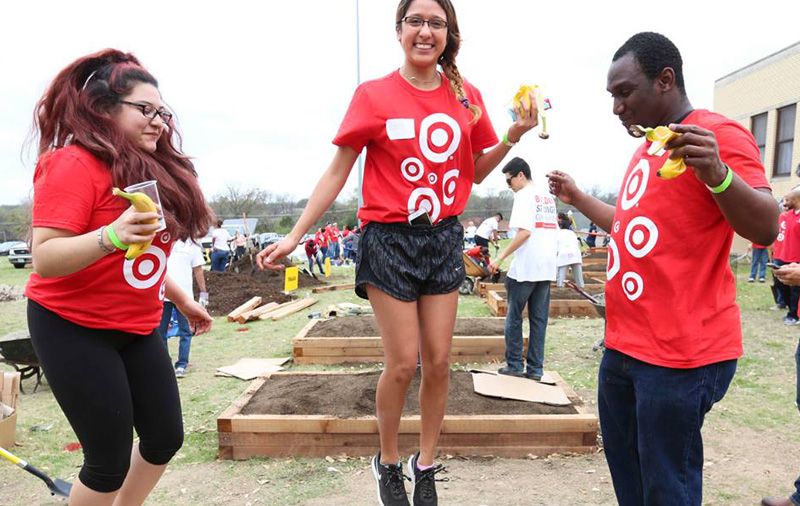 culture
What's it like to work here? We're asked that a lot. Target respects and values the individuality of all team members and guests—and we have lots of fun in all that we do.
experience our culture