Maintenance Technician 3
34800 United Ave Pueblo, Colorado
Overview
Working at Target means the opportunity to help all families discover the joy of everyday life. Caring for our communities is woven into who we are, and we invest in the places we collectively live, work and play. We prioritize relationships, fuel and develop talent by creating growth opportunities, and succeed as one Target team. At our core, our purpose is ingrained in who we are, what we value, and how we work. It's how we care, grow, and win together.
Our Culture
Joining Target means promoting a culture of mutual care and respect and striving to make the most meaningful and positive impact.
Becoming a Target team member means joining a community that values diverse voices and lifts each other up. Here, we believe your unique perspective is important, and you'll build relationships by being authentic and respectful. We're always striving to do what is right for Target, our team and guests by following our words with actions, collaborating across the organization to accomplish goals, and recognizing each other's wins.
Our Values
Our values are at the core of who we are. They guide our daily behaviors, enabling us to bring our vision and purpose to life. These values fuel our culture and ensure every member of our team is working toward a common goal.
Inclusivity
We value diverse voices and approaches. We act with authenticity and respect. We create equitable experiences for all.
Connection
We build trusted relationships. We collaborate across business functions. We recognize and celebrate progress.
Drive
We do what is right for Target, our team and guests. We deliver results that matter. We continually learn by valuing progress over perfection.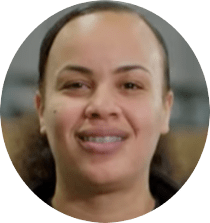 It feels like a family. There's no better way to explain it. I love learning as much as I can here and there's a lot of room to grow.

- Shalonda, Warehouse Worker
Benefits / Rewards

Physical health
Target offers our eligible team members comprehensive health benefits and programs, which may include medical, vision, dental and more, to help you and your family take care of your whole selves.
Plus, all of our U.S.-based team members get access to 24/7 virtual health care visits via the CirrusMD app and access to Grokker, a free fitness and well-being platform.

Mental health
We invest in and prioritize the mental health and well-being of our team by providing resources, space and support for through your entire well-being journey. We provide all team members and members of their household with free, confidential, 24/7 access to trained clinicians through our employee assistance program, Team Member Life Resources. Additionally, we offer access to a self-paced cognitive based therapy program available through Team Member Life Resources, at no cost, to cover concerns such as anxiety, sleep and substance misuse.

Financial well-being
We offer benefits and tools to help you and your family make good financial decisions today and for the future.
We provide access to a full banking institution through our credit union membership, help you save for your retirement through the TGT 401(k) plan with matching contributions up to 5% of eligible earnings and offer a 10% team member discount on merchandise, with an additional 20% discount on wellness items at Target.

Time-off, life & family
At Target, we value well-being and encourage work-life balance. We offer a suite of family-centric benefits to eligible team members that help you build and balance the needs of your family and career, while encouraging you to enjoy activities and interests outside of work.
Our time-off plan provides eligible team members with company paid national holidays and accrued vacation (based on hours worked and years of service). Other family support benefits include paid family leave, reimbursement to help cover adoption or surrogacy fees, and programs to help you secure quality back-up or reliable primary care, extra academic support, pet sitters and more.

Education assistance
Target offers industry-leading education assistance benefits to support your continuous learning as you build skills for a lifetime. Through our Dream to Be program, in partnership with Guild, team members have access to tuition-free options from 250 business-aligned programs across more than 40 schools.

Pay
We're market-competitive to ensure we recruit and retain a highly engaged and diverse team. In addition to competitive base pay, we offer variable pay programs to eligible team members to reward both corporate and individual performance.
Maintenance Technician 3
Location: 34800 United Ave, Pueblo, Colorado, United States, 81001-4882;
job id: R0000315369
job family: Distribution Center - Maintenance & Mechanics
schedule: Full time
Pay Range / Rango salarial: $37.25 USD - $41.57 USD per hour
About the Job:
Pay Range:$37.25-41.57/hr, based on applicable experience
Tuition Reimbursement
Health Benefits eligible in 14 days!!!
Potential Shifts:
A2: Saturday - Monday from 6:00PM to 6:00AM w/ $2.50 shift differential
B3: Tuesday - Friday from 8:00PM to 6:00AM w/$2.50 shift differential
About us:
As a Fortune 50 company with more than 400,000 team members worldwide, Target is an iconic brand and one of America's leading retailers.​
Working at Target means the opportunity to help all families discover the joy of everyday life. Caring for our communities is woven into who we are, and we invest in the places we collectively live, work and play. We prioritize relationships, fuel and develop talent by creating growth opportunities, and succeed as one Target team. At our core, our purpose is ingrained in who we are, what we value, and how we work. It's how we care, grow, and win together.  
Target Global Supply Chain and Logistics is evolving at an incredible pace. We are constantly reimagining how we get the right product to the guest better, faster and more cost effectively than ever before. We are becoming more intelligent, automated and algorithmic in our decision-making, so that no matter how guests shop—in stores or on Target.com—we deliver the convenience and immediate gratification they demand and deserve. We are on a mission to win decisively over any competitor, with a seamless and superior guest service experience unlike any they can offer. Our teams work with the agility our mission requires, and we constantly come together to implement new processes in record time.
A role in a Supply Chain Facility means being on the very front lines of getting product to the guest as fast as possible—a critical differentiator and one of the most essential Logistics functions. You'll reach beyond the bounds of your team to partner across the enterprise and find solutions to support the business. Whether it's through focusing on our regional or upstream distribution centers, import warehouses, or fulfillment and flow centers, you'll have a chance to positively impact thousands of fellow team members and Target guests worldwide, further differentiating Target from all the rest.
As an Engineering & Facilities Maintenance Technician 3 (MT3), you will be a key technical subject matter expert that ensures high equipment availability rates.  You will use preventive and predictive maintenance processes, rapidly troubleshoot equipment breakdowns, and quickly restore equipment to service.  You will work with other Target maintenance technicians to solve difficult problems, validate quality of work for outside specialty contractors, work with building leaders to optimize material handling equipment, handle multiple projects, and work with a sense of urgency.  You will collaborate with others to perform Root Cause Analysis for equipment failures, and fix systemic issues using careful observation and diagnostic tools.  You will have an expert understanding of system controls logic and troubleshooting techniques.  As the technical subject matter expert on a shift, you will also act as a technical trainer, sharing your knowledge with maintenance technicians and technician trainees to enhance their technical skills and job knowledge.
An individual in this role will:
Maintain and troubleshoot electrical/mechanical aspects of Material Handling Equipment (MHE), including conveyors, sortation, robotics, or Automated Storage and Retrieval Systems (ASRS)

Control and adjust positioning accuracy and timing
Control and adjust scanners, cameras, scales and printer applicators
Control, reset, repair or replace adjustable components (belts, chains, cables) and wearing components (guides, bearings, wheels, rollers, pulleys)
Clean, lubricate, and calibrate equipment

Install, maintain, and troubleshoot relay logic, ladder diagrams, and control components-- photo eyes, motor starters, relays, limit switches, proximity sensors, timers, solenoids, Servo drives, frequency inverters, linear drives, tachometers and encoders
Troubleshoot PLC programs, components (CPU back plains, I/O boards, counters, modules, and devices), field buses (ASI, Profibus, DeviceNet, etc.), and communications modules (Ethernet). 
Configure and adjust PLC parameters and component setup
Conduct maintenance and higher level troubleshooting of any robot type
Troubleshoot power distribution systems, branch circuits, lighting systems, transformers, and wiring methods and materials, up to 480V
Develop work plans with peer technicians for emergency repair of critical assets
Utilize handheld devices and asset management system mobile apps to create and close Work Orders with appropriate data (labor hours, downtime, problem/cause/remedy, and parts used)
Develop and maintain positive working relationships across all levels of the organization
Follow appropriate safety procedures and use Personal Protective Equipment (PPE) while maintaining equipment (Lock Out/Tag Out, Arc Flash, etc.), and ensure a safe work environment by eliminating potential equipment safety hazards
Operate Target-owned vehicles to complete maintenance activities on the exterior of the facility and within the trailer yard, as well as travel to nearby facilities and local stores to procure parts and supplies, as needed
Navigate ladders and gangways safely and work off platforms and equipment at significant heights
Work effectively in varied conditions, temperatures, and environments
Frequently monitor all aspects of the internal and external worksite, which may include standing/walking for up to 10-12 hours
Lift and/or move product or items up to 49 pounds
Core responsibilities of this job are described within this job description.  Job duties may change at any time due to business needs.
About you:
Possess or ability to obtain a valid driver's license
Excellent PC competency and ability to use mobile apps on handheld devices
Familiar with wiring diagrams, symbols and electrical measuring
Experience with the following areas:

Preventive/predictive maintenance procedures
Blueprint and schematic reading
Work order management
Industrial Electrical, Controls and Electronics
Programmable Logic Control (PLC) programs
National Electrical Code (NEC) and Material Handling Equipment (MHE) safety standards
Automated material handling equipment or robotic maintenance

Desired:

Degree from a technical or community college, or accredited industrial maintenance certifications (PLCs, Industrial Networks, Machine Logic, Robotics), with a focus in the Mechanical/Electrical fields
4+ years of experience in the Mechanical or Electrical maintenance field
Americans with Disabilities Act (ADA)
Target will provide reasonable accommodations with the application process upon your request as required to comply with applicable laws. If you have a disability and require assistance in this application process, please visit your nearest Target store or Supply Chain Facility or reach out to Guest Services at 1-800-440-0680 for additional information.
Apply now