Lead Data Engineer - Data Science Optimization
Apply Now
Job ID: INF000DKH
Date posted: 02/20/2019
Location: 9743 - Sunnyvale CA, Sunnyvale, California
Description:
Target is looking for engineers to work on build and deployment infrastructure for our optimization and simulation platforms. We are developing a greenfield optimization and simulation platform with unique and interesting challenges to make sure our guests have the best Target experience they can have.
We'd love to hear from you if you are interested in building compute-intensive systems for data science and mathematical modeling. Prior experience in optimization and operations research isn't necessary, we'll happily teach you!
While we are part of one of the largest retailers in the country, the team operates like a lean start-up or applied research group. Our multi-disciplinary team leverages modern and cutting edge technologies to help Target in its daily operations, nationwide. We emphasize both learning and teaching within the team and are excited to teach and learn from you!
You will:
Work with business partners, data scientists, and engineers in a highly interactive and integrated environment to build the future of Target's supply chain
Work on tooling and infrastructure to enable the team to rapidly deploy and experiment with various algorithms and models
Use modern technologies like Kubernetes and Nix in domains like combinatorial optimization, operations research, and end-to-end versioned data pipelines
What we are looking for:
Interest in design and implementation of scalable and performant compute pipelines
Understanding of systems topics such as cluster computing, schedulers, build systems, databases, etc.
Familiarity with languages with expressive type systems such as Haskell, Scala, or Rust
Bonus:
Experience deploying Haskell or Rust, with an emphasis on performance and profiling
Experience with modern infrastructure systems such as Kubernetes, Nomad, Mesos, Consul, Kafka, etc.
Experience with modern build tools such as Nix, Bazel, Buck, etc.
Experience operating persistent storage systems like relational databases, key-value stores, and object storage
Why work with us at Target?
We are a distributed team. Our company is based in Minneapolis, MN and our team is based in Sunnyvale, CA, but more than 50% of the team works outside these areas, and we operate as a remote-first team.
We are using great tools Not only are we using programming languages like Haskell, Rust, Scala, and Python, but we are also using modern tooling and infrastructure like Nix and Kubernetes.
We love open source! Many of our team member's contribute to open source communities, and get to do it during work time. We try to contribute back to our communities where we can, and are grateful to be able to open source some of our own projects!
We value diversity. We believe that diversity and inclusion is of core importance when try to create positive in-store experiences for our guests, and we think it is also critically important when building our teams. Read more about our commitment to diversity and inclusion
We value our team members. We treat out team members like people, not like cogs in a machine. We value our team members for who they are, not just what they can get done. We are parents, hobbyists, enthusiasts, family members, and community members, and are able to offer flexibility to our team members' schedules and work arrangements so that they can flourish both inside and outside of work.

Target will consider for employment qualified applicants with criminal histories in a manner consistent with the San Francisco and Los Angeles Fair Chance Ordinances.
Apply Now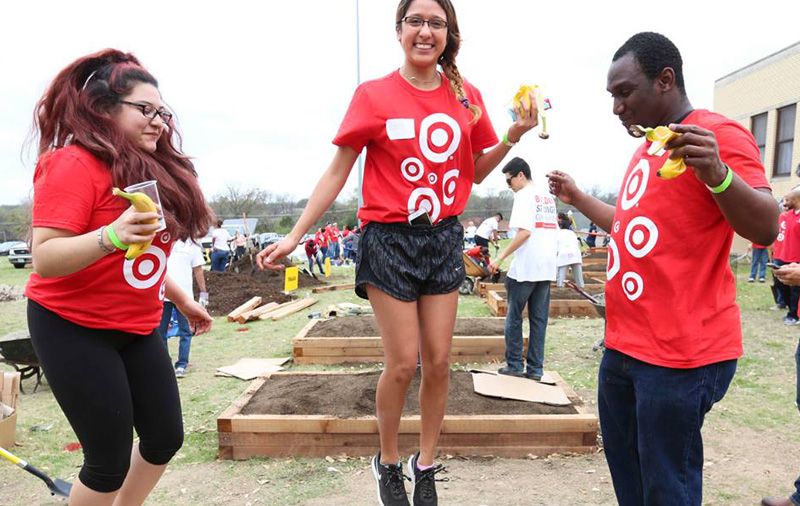 culture
What's it like to work here? We're asked that a lot. Target respects and values the individuality of all team members and guests—and we have lots of fun in all that we do.
experience our culture