HR Business Partner
Apply Now
Job ID: R0000132882
job family: Human Resources Generalist
schedule: Full time
Location: 1100 SW 57th St, Topeka, Kansas, United States, 66609-1261;
Target is an iconic brand, a Fortune 50 company and one of America's leading retailers.
Target Global Supply Chain and Logistics is evolving at an incredible pace. We are constantly reimagining how we get the right product to the right guest even better, faster and more cost effectively than before. We are becoming more intelligent, automated and algorithmic in our decision-making, so that no matter howguestsshop—in stores or on Target.com—we deliver the convenience and immediate gratification they demand and deserve. We are on a mission to win decisively over any competitor, with a seamless and superior guest service experience unlike any they can offer. Our teams work with the agility our mission requires, and we constantly come together to implement new processes in record time.Sowe're looking for exceptional people who are proactive, creative, independent, innovative, risk-savvy and comfortable working in varying degrees of ambiguity. Are you a critical thinker who seeks the root cause and can analyze both qualitatively and quantitatively? Are you a creative problem-solver who simplifies problems, quickly identifies solutions, commits to a plan and then positively influences others to execute it? If so, you will have success on one of our dynamic teams. 
A role inDistribution and Receive Centersmeans being on the very front lines of getting product to the guest as fast as possible—a critical differentiator and one of the most essential functions within Logistics. Whether it's through focusing on regional or upstream distribution centers, target.com fulfillment centers,or import warehouses, you'll have a chance to positively impact thousands of fellow team members and Target guests worldwide. There's so much good work to be done, from Distribution Center Operations, where process andproblem solvingdrive our results; Quality Management, which influences and maintains our good name in the retail marketplace, or overall Distribution Center Productivity, where we're always analyzing and recalibrating how to best support our people, process and technology investments to support anever evolvingbusiness. 
In support of Target's Global Supply Chain and Logistics business,Human Resourcesis a critical partner in theability to build the very best teams, andas HR weinfuse our work with Target's distinctive retail brand by continuously experimenting, evolving and innovating. With the chance to positively impactour teams indistributioncenters across our Target network,you'll be a strategic partner to both the leaders and the team members who elevate and nurturethe Target experience. Our dynamic, passionate and responsive team comprises specialized people-professionals from several diverse disciplines. We operate behind the scenes to create a progressive culture of value, respect, reward and professional advancement.
As an HR BusinessPartner, you will be a key strategic partner for leadership and a valuable resource for team members. Whether through onboarding, performance management or giving leaders and team members the guidance that they need to be successful, you will be a knowledgeable and committed resource. You'll make a positive impact on how team members experience organizational change, and you'll use information and work closely with leaders to build the teams that achieve their specific business goals. You'll also work closely with our leaders to recruit, retain, develop, and optimize the performance and engagement of individuals and teams. You'll think innovatively to solveproblems, anddeliver excellent HR services with quality and efficiency. 
Core responsibilities of this job are described within this job description.  Job duties may change at any time due to business needs.
Four-year degree or equivalent experience 

Experiencein one or more of the followingareas: employee relations, talent acquisition, organizational strategy,or training and development
Ability toleverage strong interpersonal skills to communicate clearly andeffectively in all situationsatvarying levels of the organization; including but not limited to senior leadership.

Strong reasoning, analytical, problem solving anddecision-makingskills

Proven ability to motivate teams and manage conflict

Experiencein one or more of the followingareas: employee relations, talent acquisition, organizational strategy,or training and development

Ability tounderstand policies and procedures and relate them to others
Basic knowledge in word processing, spreadsheets, computer systems(examples include Excel, Word, O365)
Americans with Disabilities Act (ADA)
Target will provide reasonable accommodations (such as a qualified sign language interpreter or other personal assistance) with the application process upon your request as required to comply with applicable laws. If you have a disability and require assistance in this application process, please visit your nearest Target store or Distribution Center or reach out to Guest Services at 1-800-440-0680 for additional information.
Apply Now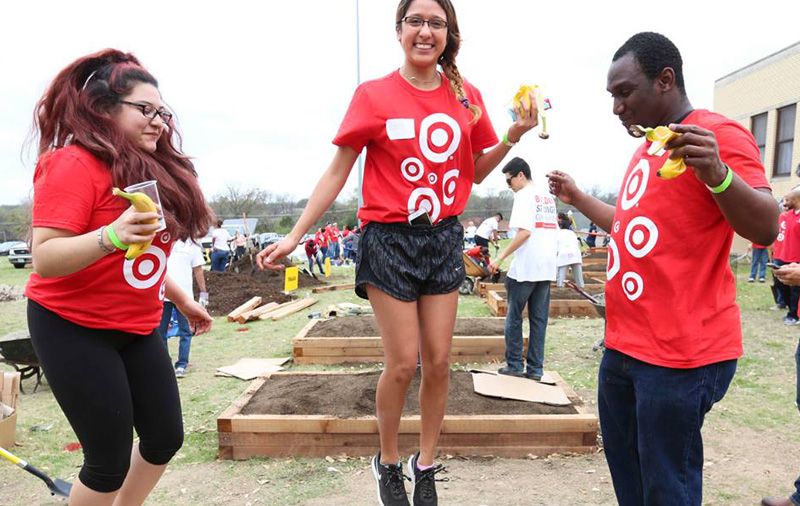 culture
What's it like to work here? We're asked that a lot. Target respects and values the individuality of all team members and guests—and we have lots of fun in all that we do.
experience our culture