Ammonia Refrigeration Manager - Upper Marlboro, MD
Apply Now
Location: 1290 Prince Georges Blvd, Upper Marlboro, Maryland, United States, 20774;
job id: R0000263616
job family: Building Operations Engineering
schedule: Full time
About Us:
Target is an iconic brand, a Fortune 50 company and one of America's leading retailers
Target Global Supply Chain and Logistics is evolving at an incredible pace. We are constantly reimagining how we get the right product to the guest even better, faster and more cost effectively than before. We are becoming more intelligent, automated and algorithmic in our decision-making, so that no matter how guests shop—in stores or on Target.com—we deliver the convenience and immediate gratification they demand and deserve. We are on a mission to win decisively over any competitor, with a seamless and superior guest service experience unlike any they can offer. Our teams work with the agility our mission requires, and we constantly come together to implement new processes in record time. So we're looking for exceptional people who are proactive, creative, independent, innovative, risk-savvy and comfortable working in varying degrees of ambiguity. Are you a critical thinker who seeks the root cause and can analyze both qualitatively and quantitatively? Are you a creative problem-solver who simplifies problems, quickly identifies solutions, commits to a plan and then positively influences others to execute it? If so, you will have success on one of our dynamic teams.
A role in Food & Beverage (F&B) HQ Engineering means being at the heart of our perpetual reimagining process. This group is the think tank and laboratory for the innovative ideas that spark change throughout the Supply Chain. We are inventors, metrics masters, data geeks, testers, triers, course-correctors and askers of the all-important question: "What if …?" This team influences processes, engineers the refrigeration and automation systems to support those processes, activates solutions sustainably across the network and manages those assets. Your specific expertise—whether it's people, process, technology, or data—will be felt well beyond the boundaries of the Supply Chain organization, positively impacting Target team members and guests alike.
About the job:
As an Engineering & Facilities Senior Refrigeration Systems Engineer (SRSE), you play a proactive technical leadership role, ensuring high equipment availability and optimized system performance.
You will help develop capital plans, and perform cross-department technical support collaboration, technical talent development, senior leadership advisement, and influence building refrigeration, continuous improvement, and new installation initiatives. You will coordinate on-site support, driving rapid troubleshooting of equipment during downtime events, ensuring proper processes and training procedures are implemented as part of root cause analysis, all while ensuring cold chain compliance. Your indirect leadership of the Engineering and Facilities Operations Managers and Maintenance Technicians is critical to ensuring a strong reliability culture. You serve as an expert who understands refrigeration, Process Safety Management (PSM) and overall system optimization, controls logic, and facilitates and trains effective troubleshooting techniques.
A successful candidate in this role will:
·       Maintain expertise across all electrical, mechanical, and control system communication aspects of our refrigeration systems, including but not limited to compressors, evaporators, condensers and all related ammonia refrigeration systems.
·       Oversee a single site food distribution center, serving as a technical subject matter expert that can lead recovery efforts and provide effective troubleshooting during equipment downtime events as well as ensuring compliance with federal, state and local agencies.
·       Provide incident communication and promote timely escalation to all partners at HQ and the field, Target Technology Services, and vendor resources to support recovery efforts
·       Lead root cause analysis and incident review processes to eliminate future reoccurrences of downtime events. Ensure appropriate steps are taken to document incidents fully and accurately.
·       Seek proactive solutions and countermeasures to reduce unplanned downtime events within for the refrigeration system.
·       Conduct Refrigeration Bi- Annual Assessments to evaluate equipment performance and risk. Present results to site and distribution leadership team, and assist with developing action plans for improvement in equipment maintenance based upon findings.
·       Possess the ability to manage multiple complex projects and tasks simultaneously. Moreover, you will need to be adept at providing technical leadership and mentoring to facilities maintenance leaders as well as Maintenance Technicians.
·       Possess the ability to inspect, maintain, troubleshoot, repair, train, and coach across various resources and scenarios. You will need to manage multiple tasks simultaneously, and work well under pressure
·       Conduct technical interviews for internal and external technician candidates, evaluate technical skills and abilities, and train and coach internal technicians
·       Act as the 1st level escalation support for ammonia refrigeration system problems / alarms
·       Manage refrigeration maintenance contractors conducting preventive and corrective maintenance on the system
·       Coordinate routinely with third party vendors, ensuring adherence to contracted service level agreements
·       Oversee PSM related training for the Technicians and OMs
·       Receive, review, and document management of change each time a change is made to refrigeration equipment/drawings
·       Receive, review, and document all refrigeration incident investigations with the assistance of the E&F OMs, SOM, Corporate Engineering, and Corporate PSM Coordinator. Directly participate in any incidents and assist the facility with proper reporting procedures and follow up action items
·       Assist the Corporate PSM Coordinator with annual auditing of ammonia refrigeration processes and equipment
·       Ensure timely completion of work orders; repairs, and preventative maintenance and documentation of all maintenance activities
·       Act as the On-site PSM Coordinator.  Ensure FDC is in compliance with all aspects of the PSM program
·       Oversee drills for EAP alarm scenarios, including investigations into ammonia alarms
·       Maintain thorough knowledge and facilitate site training on appropriate safety procedures and use Personal Protective Equipment (PPE) while maintaining equipment (Lock Out/Tag Out, Arc Flash, etc.), and ensure a safe work environment by eliminating potential equipment safety hazards
·       Develop and implement plans for continuous improvement within the refrigeration system
·       Maintain active partnership with fellow refrigeration peers and HQ Engineering team
·       Manage operational expenditure (OpEx) and CapEx budgets for ammonia refrigeration for the site, optimizing economic value for equipment life cycle management
Requirements: 
·       2 year technical degree or RETA Certified Industrial Refrigeration Operator (CIRO) Certification.
·       Minimum of 5 years field experience operating, maintaining, servicing, and commissioning industrial ammonia systems.
·       PSM program management experience
·       Demonstrated experience managing maintenance or service of ammonia refrigeration systems for refrigerated distribution or food processing facilities
·       Strong knowledge of common industrial safety practices and expectations, including experience with arc flash safety programs
·       Capability to be on-call outside of normal business hours for escalated incident support
·       Ability to communicate clearly and effectively, relating technical issues to business leadership
·       Strong organizational skills;  proven ability to motivate and influence teams and manage conflict
·       Strong reasoning, analytical and problem solving skills
·       Ability to read and interpret schematics and technical prints
·       Experience with Microsoft Office (Outlook, Word, and Excel)
·       Ability to effectively use and develop spreadsheets / databases to analyze and present data
·       Ability to access all levels and areas of the facility
·       Ability to interpret and understand policies and procedures and relate them to others
·       Ability to travel up to 20% of the time
·       Must pass the Respiratory Medical Evaluation (pre-employment and every three years) to meet OSHA standards
·       Demonstrated experience troubleshooting computerized refrigeration control panels and microprocessors relating to industrial refrigeration operations
·       Ability to access all levels and areas of distribution centers without restriction
Preferred Qualifications:
·       Ammonia refrigeration systems CARO/CIRO
·       Haz-Mat first responder
·       Systems integration experience
·       Field service engineering experience
·       Systems trainer or training experience
·       Experience supporting a wide range of different refrigeration assets & systems
·       Experience with advanced automation
·       Project management experience
·       Experience leading technical teams
·       Field service engineering experience
·       Systems trainer or training experience
·       Project management experience
Americans with Disabilities Act (ADA)
Target will provide reasonable accommodations (such as a qualified sign language interpreter or other personal assistance) with the application process upon your request as required to comply with applicable laws. If you have a disability and require assistance in this application process, please visit your nearest Target store or Distribution Center or reach out to Guest Services at 1-800-440-0680 for additional information.
Apply Now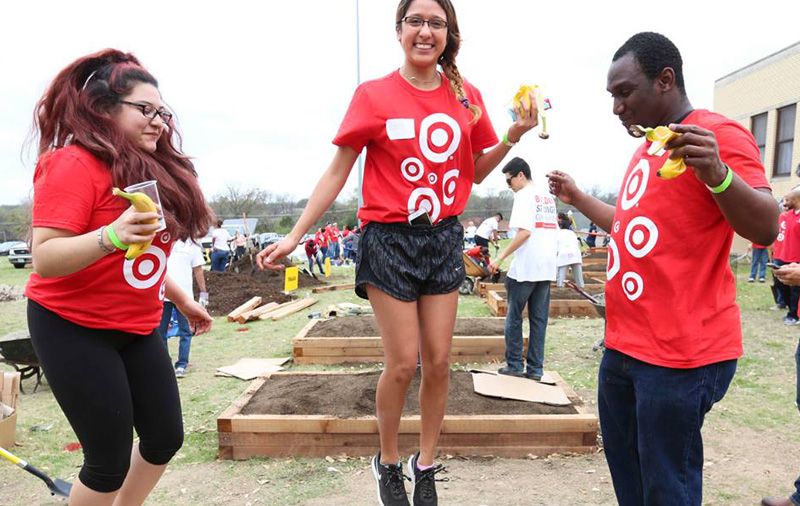 culture
What's it like to work here? We're asked that a lot. Target respects and values the individuality of all team members and guests—and we have lots of fun in all that we do.
experience our culture