overview
Target is one of the world's most recognized retail brands. We pride ourselves on inspiring and delighting guests every day by connecting them with the products and experiences they expect and deserve. Our over 1,800 stores welcome guests with an enjoyable shopping experience designed to help them get the most from their Target run.
Our leadership team is committed to helping guests discover the joy of everyday life while providing the support, education and motivation their teams need to do the very same. They shape a culture that fosters career, caring and community and relish the opportunity to connect with guests, team members and everything else there is to love about Target.
become a
T

arget team leader

As a Team Leader, you'll bring your unique skills and expertise in retail sales, service and merchandising to help drive sales growth and total store profitability. You'll be recognized and rewarded for your contributions as you prioritize guest service above all else. You'll also focus on your own growth and development by expanding your expertise and skillset within your role, growing across levels or advancing to a new level. From executing sales strategies to coaching and cultivating each team member's unique capabilities—no two days as a Target Team Leader are ever the same.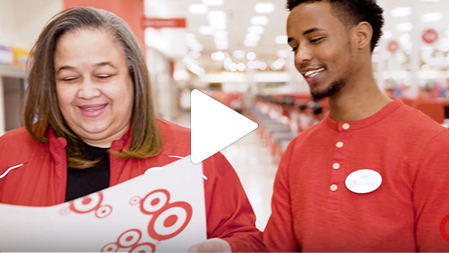 match your skills and interests to the team for you
specialty sales

Target Specialty Sales is designed to deliver an elevated shopping experience for guests in three key departments: Apparel & Accessories, Beauty and Electronics. Working in Specialty Sales is an opportunity to hone your active selling skills and lead your team in creating compelling visual merchandising presentations that inspire guests and build the basket. You'll have ownership in your department, use store tools to understand and meet your sales goals, and manage your team to ensure that your department is set, full, accurately priced and signed.

Explore roles in Specialty Sales

Specialty Sales Team Leader
Style Team Leader

To review the job description, search for any of the above job titles.

service & engagement

A role in Target Service and Engagement means making a personal connection and interacting with guests by asking thoughtful questions about their experience, solving for concerns and feeling empowered to make their day better. You'll take pride in creating an enjoyable shopping experience for guests at every touchpoint, from the check-lanes, guest services and gift registry to order pickup and drive-up.

Explore roles in Service & Engagement

Service & Engagement Team Leader

To review the job description, search for the above job title.

general merchandise & food sales

A role in General Merchandise & Food Sales means joining a team of experts in the areas of operations, process and efficiency. As a Team Leader in General Merchandise, you'll love creating an exceptional guest experience by making sure that product is in stock, and that the sales floor is set, accurately priced and signed. And if food and beverage aligns with your interests and experience, you'll lead your team to provide guests with a fresh and safe food and beverage experience through pick, pack and ship fulfillment work and presentation, pricing and promotional signing processes for all Food & Beverage areas of the store.

Explore roles in General Merchandise & Food Sales

Food & Beverage Team Leader
Food Service Team Leader
General Merchandise Team Leader
Fulfillment Operations Team Leader
General Merchandise & Food Sales Team Leader
Inbound Operations Team Leader

To review the job description, search for any of the above job titles.

support roles

Support Roles encompass four key operational areas that team members depend on every day: the Closing teams, Human Resources, Assets Protection and Property Management. Each area plays a critical role in creating and maintaining an environment where we work as one team to deliver on our promise to guests every day.

Explore Support Roles

Closing Team Leader
Closing Food and Beverage Team Leader
Human Resources Process Team Leader
Human Resources Team Leader
Assets Protection Team Leader

To review the job description, search for any of the above job titles.
Rewards
pay

Market Competitive Pay

discount

10% discount at Target and Target.com + 20% off fruits & veggies, Simply Balanced and C9 merchandise

schedule

A variety of schedules offered
Responsibilities
Think you have what it takes to become a Target Team Leader? Having a flexible schedule and leadership experience are a great start, but here are a few other things that might make you a strong candidate:
You like working in a fun and energetic environment.
You love the idea of working efficiently as a team to deliver for our guests.
Stocking, setting and selling merchandise sounds like your thing—that's at the core of what we do.
You aren't looking for a Monday through Friday job where you're at a computer all day. We're busy all day (especially on the weekends), making it easy for the guest to feel welcomed, inspired and rewarded.
next steps
Before you apply, here are a few things you need to know about our application process. First, you'll be re-directed to a new page. Search for the title of the role that best fits your skills and interests. Once you've reviewed the job description and found the role that interests you, click apply and share with us why you'd love to work at Target.
questions?
View our FAQs for answers to common application questions.
The Pulse Blog

The Pulse Blog is your sneak peek into what it's like to work at Target and get a feel for our culture.

read blog

our benefits

Target's benefits are some of the best in retail, with competitive pay, excellent insurance coverage, career mentoring and many other great perks.

get the scoop

where we are

Target is an international company with more than 300,000 team members around the world, and headquarters in the United States and India.

find locations